Modern-day restoration methods
The surfaces of the Fountain of Neptune are being restored by the Institute for Conservation and Restoration. The restoration work is conducted by the Institute as practical training for students enrolled in second cycle academic degree in conservation and restoration of ISCR's School of Higher Education. Students from the University of Bologna following a similar course of study at the Ravenna campus are also involved in the summer school. More than 30 students are working under the guidance of 12 restoration professors and scientific and technical staff from the Institute.
Bronzes
The restoration intervention will respect the patina considered an integral part of the sculpture, a sign of the passage of time and major evidence of the degradation processes. Once cleaned of the soluble salt deposits and treated with a corrosion inhibitor and protective agent, this coating will still be able to provide insulation. Different methods will be used to remove materials deemed extraneous and harmful to conservation. These include general dirt (guano, grease marks, deposits of atmospheric particulate), sediments, "black crusts" and any geodesic lines, newly formed compounds due to chemical attack on the patina, outcropping soluble salts from inside the statue or caused by environmental pollution, lime encrustations, aged finishes and protective layers.
The intervention therefore aims to re-establish an adequate state of conservation and at the same time undertake limited colour balancing to enhance the monument's components following the criteria of minimum intervention, maximum selectivity and reversibility of operations.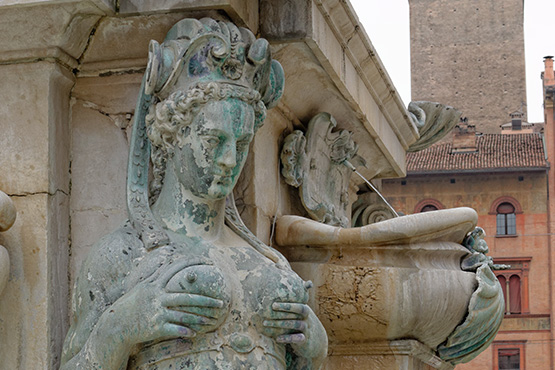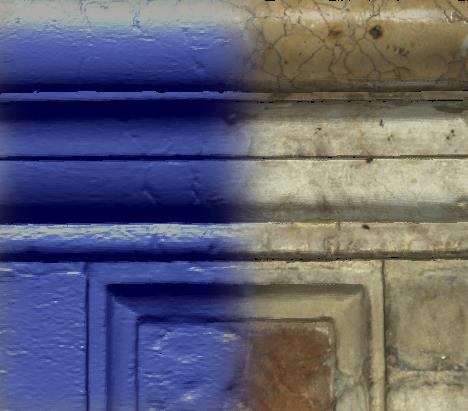 The stone components of the Fountain will be cleaned by a series of different methods suited to the composition of the materials and the products of decay that will be removed safeguarding the integrity of the monument's surface. Layers of limestone build-up incorporating atmospheric particulate and areas of old, inappropriate and damaged protective layers will be identified and solvent solution compresses applied with careful finishing utilizing mechanical means or laser instruments.
The old deteriorated grouting will be removed and replaced. In the case of previous grouting with unsuitable materials (polyester or epoxy resins) strongly attached to the original stone, a simple thinning operation is planned with subsequent surface integration. Since the stone surfaces will have to interact with water, the different types of mortar used in the new grouting must meet specific structural characteristics, and withstand the impact of possible anthropic damage or wear and tear caused by pedestrian traffic.
The restorations of the Neptune Fountain over the years